Air ambulance responds to more road traffic collisions than other types of incident in B&NES in 2022 - the story of one Radstock emergency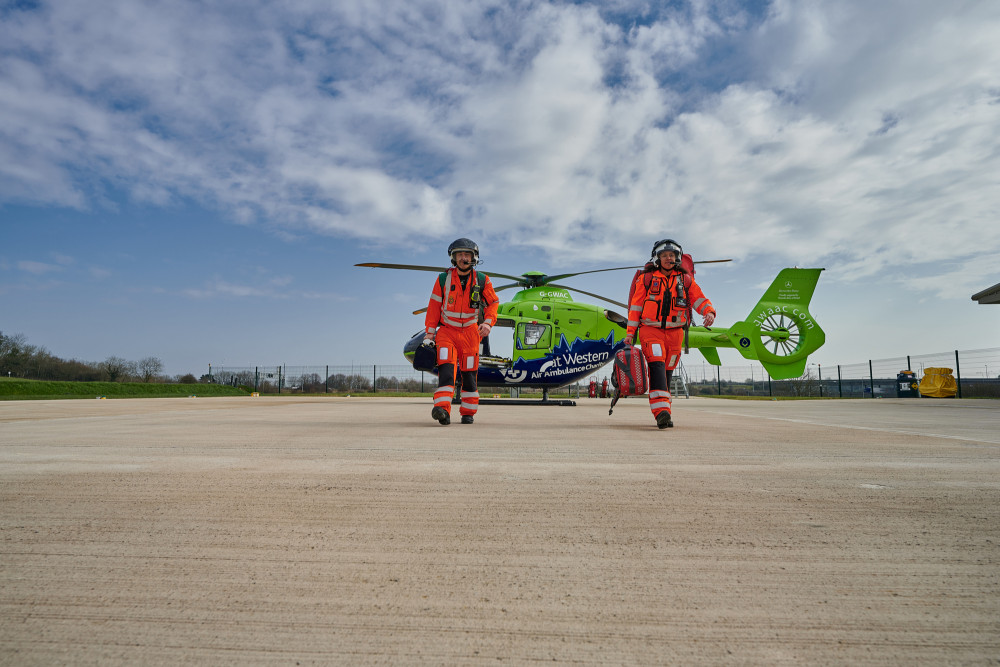 Air Ambulance Paul Ruberry
Great Western Air Ambulance Charity (GWAAC) has announced that during 2022, the Critical Care Team received a total of 1,808 call-outs to patients across the region which includes Bath and North East Somerset, North Somerset, Bristol, South Gloucestershire, Gloucestershire, and parts of Wiltshire.
GWAAC was tasked to 94 patients in Bath and North East Somerset (B&NES); 22 of whom needed urgent care following a road traffic collision (RTC) — the most common type of incident for the air ambulance in B&NES.
Cardiac arrests were the second highest reason their crew was called to the area with 19 patients needing immediate critical care in 2022.
Overall, fifty-seven percent of call-outs to B&NES were trauma-related and 43% percent were medical-related.
GWAAC attended an average of over seven critically ill people in B&NES each month last year.
How GWAAC helps RTC patients
Adam, from Radstock, was on his way to college on his moped when he misjudged the traffic at a set of lights. He was thrown from his bike and suffered life-threatening injuries. Adam's mum, Jane, recalls: "When we arrived at the hospital, we were told how seriously ill Adam was and that the next 48 hours would be critical. The consultant told me that Adam survived the journey to hospital thanks to GWAAC's Critical Care Team and their ability to airlift him."
Adam visiting the GWAAC airbase
Adrian was cycling to work one day when he collided with a lorry. He sustained multiple critical injuries to his neck, back, ribs and eye. GWAAC's crew attended and treated Adrian at the roadside before they airlifted him to Southmead Hospital, the region's major trauma centre. He has since recovered and gone on to fundraise incredible amounts for GWAAC and continue his passion for cycling.
Adrian visiting Critical Care Doctor Matt Thomas at GWAAC's airbase
About GWAAC
The air ambulance and critical care service, which is charity funded, provides emergency medical care to the most seriously ill or injured in the region.
GWAAC's crew of Critical Care Doctors, Advanced Practitioners and Specialist Paramedics bring the expertise of a hospital emergency department to the scene of an incident. These skills can make the difference between life and death. From roadside blood transfusions to performing emergency surgery to anaesthesia, the crew is specially trained to deliver pre-hospital emergency care to both children and adults.
The increasing demand for GWAAC's service means the charity needs to raise over £4 million a year to remain operational, yet it receives no day-to-day funding from the Government or National Lottery, relying on the generosity and support from local communities.
"2022 was another busy year for GWAAC. Success stories like Adam's and Adrian's are wonderful to hear and it's thanks to the skills of our crew and the generosity of everyone that supports us that we are able to help people having their worst day. We all rely on the crew to be there for us; our charity relies on donations from people living in this region, so if you can donate yourself, recommend us for an award or a grant or leave us a gift in your will, please do not delay."
Anna Perry, CEO, Great Western Air Ambulance Charity.
For an overview of GWAAC in 2022, watch our short video: https://www.youtube.com/watch?v=t5N8TOS3saQ
To find out more about Great Western Air Ambulance Charity's work, its mission numbers in 2021, and how you can support the charity, visit www.gwaac.com