B&NES has said it is extremely sorry for failures at Charlton House care home.
By John Wimperis - Local Democracy Reporter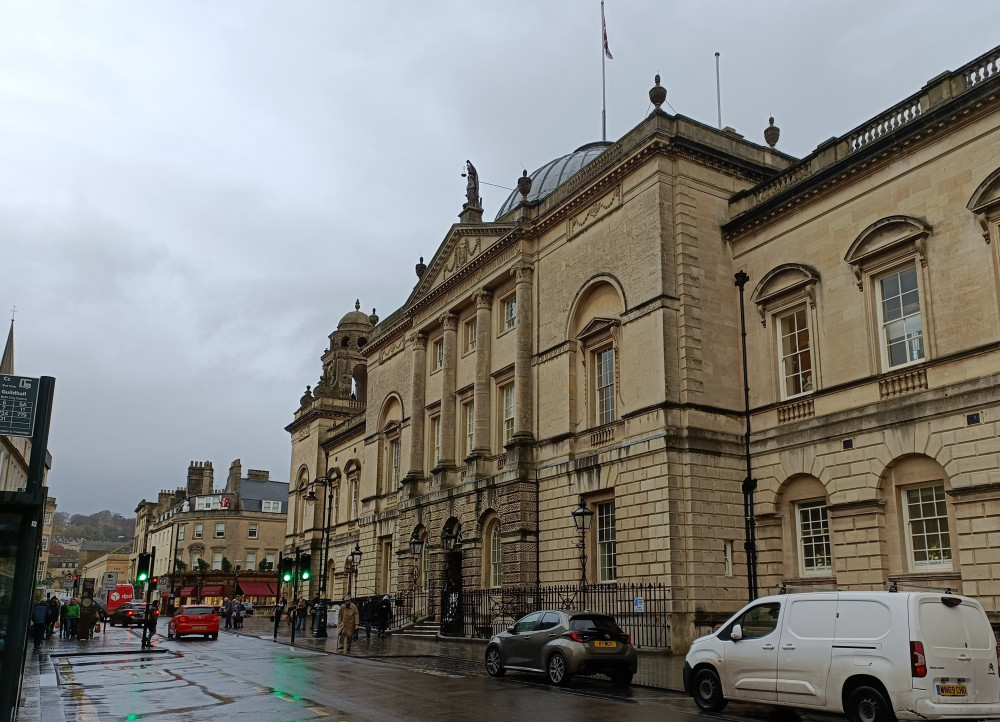 The Guildhall, Bath (Image: John Wimperis) - free to use for all BBC partners
Bath and North East Somerset Council has said it is "extremely sorry" after taking over a nursing home, only for the quality of care to deteriorate and the care home to be branded "inadequate" by the Care Quality Commission
A CQC report published in November found one person had been left sitting in urine overnight, another had an "unexplained bruise" to their chest, and staff did not call for medical assistance for seven hours after one person had suffered a stroke.
Chalton House in Keynsham had been taken over by Bath and North East Somerset Council in 2020 after owner Sirona said they could no longer run the residential care home.
Alison Born, who shares the role of the council's cabinet member for adult services and council house building, told a council scrutiny panel on January 17: "We are extremely sorry that we have let people down and have not provided the consistently high quality of care that residents and their families expect and deserve. We make no excuses for this."
The council had also issued an apology to Charlton House residents and their families when the report was published.
Chair of the council's children, adults, health, and wellbeing scrutiny panel and leader of the Conservate opposition, Vic Pritchard, said: "Some of what has been reported in the press has been really abhorrent, and amounts in my mind to torture."
Adding to his comment after the meeting, he stressed that he did not think this was done proactively but thought that what some residents had experienced was of a comparable level.
Mr Pritchard had previously called for Ms Born and council leader Kevin Guy to resign over the issues at the care home.
In her statement to the scrutiny panel, Ms Born said: "We have produced a detailed action plan to address all areas of concern and are working hard to improve the service provided but we recognise that this will not happen overnight due to the context that we are operating in.
"That context is that social care services have been underfunded for many years and the problems caused by that underfunding have been exacerbated by the combination of 12 years of austerity budgets where funding was reduced further, together with the impacts of Brexit and the pandemic."
She said that a national shortage of staff in the care sector meant the care home was reliant on agency staff and still not able to cover all shifts. During Covid, the care home also took in people discharged from the Royal United Hospital in order to relieve pressure on beds at the Bath hospital.
Ms Born said: "With hindsight, this was not a good move because the service lacked resilience, but it was made in good faith to try to support our partners in the local health and social care system at a time of crisis."
Since the issues were raised, the care home has only been at half capacity in order to reduce the staffing pressure. A floor of the home was closed and, as a result, there are now only 14 people staying in the 30-bed care home.
The council's director of adult services Suzanne Westhead said that thinking about the provision of care in the home keeps her awake at night.
She told the panel: "It was my team that identified the concerns that were written up in the CQC report in October. We alerted CQC to our concerns […] They came in and they shared our concerns."
But councillor Liz Hardman said: "I would have been really disappointed if they hadn't done that. That's part of their job."
She told Ms Westhead and Ms Born: "There are tipping points all the way along in what happened to Charlton House and what I would like to challenge […] is why weren't they picked up."
Ms Hardman said: "What happened was, because people were discharged from the RUH, their needs were more complex and under the wider system, Chalton House was unable to respond to service user needs. So this should have been picked up fairly quickly."
She added that another "tipping point" was the lack of senior staff at the care home, with key positions being filled by agency staff.
She said: "This is a care home which, over a relatively short period of time, deteriorated into one which was deemed inadequate by CQC."
Ms Westhead said members of her team were working on improving the quality of care in the home. She said: "They have been sleeping on site at times. They have been making spot checks. They have brought in a team to work with them so we've got senior clinical staff now working on site, working with the nursing staff and the care staff."
New staff brought in include a senior nurse from the RUH and a new registered manager. She added that they were also building up their own nursing staff so the care home would not be dependent on agency nurses again.
Ms Westhead said: "CQC was in last week. They are pleased with the improvements that we have made. So much so that they won't be coming back for now."
But she stressed that there was still work to do.
Ms Born added: "I think that they've seen significant improvement that means they do not feel they need to come back immediately. So its off their immediate concern radar but it doesn't mean everything is completely out of the woods and everything is done.
"So they will be back. And, as has been said, they will probably do a full inspection when they come back, but they are sufficiently reassured that they are not planning to come back in the next 28 days."