JOBS AVAILABLE in Radstock right now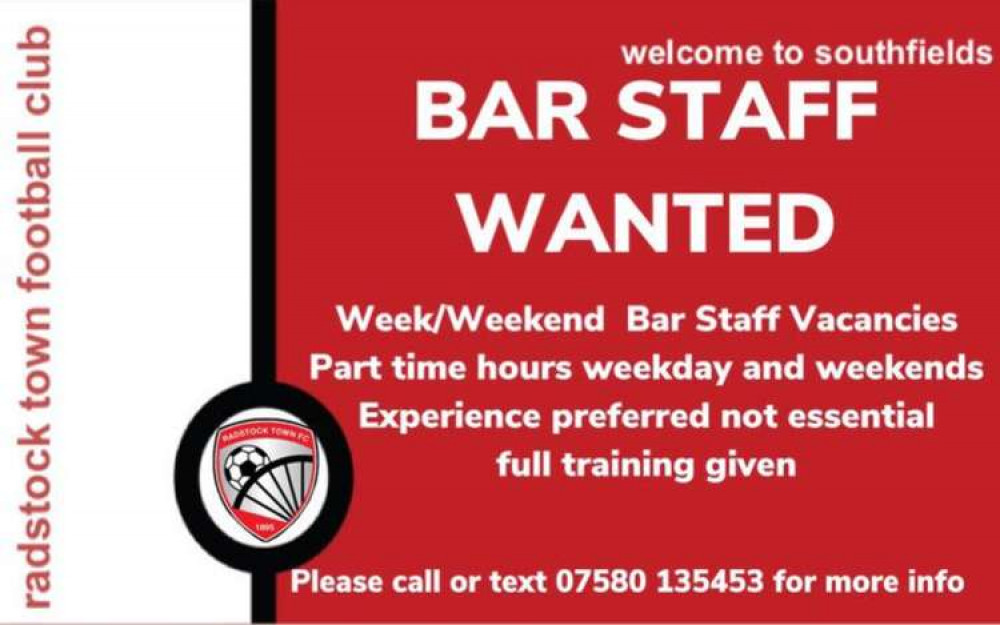 The club is having a great start to the season - so plenty to celebrate
Radstock Nub News likes to support the local community however and when ever possible, so if we spot job vacancies we put them up here. We also have a job section to the right hand side of our page.
Meantime, the football club is looking for bar staff. The whole area at Soiuthfields is now looking very swish, with a newly-renovated club house and the football is pretty good too ! Details on the image.
Radstock Nub News has spotted a posting for a well paid cleaning job - and they pay mileage. Small family owned business looking for a cleaner / cleaner. Permanent work. Cleaning houses and offices.Monday to Friday, between 9.15 am and 15.00 pm, an average of 20 hours per week. Full driving license is essential. For more information call Grzegorz-07706 461481. Rate £ 10 p/hr and weekly discretionary bonus, and they add in money for fuel.
A vacancy for a Picker/Packer, immediate Start in Midsomer Norton
Pay £10.16 p/h but this is a temporary post, Saturday and Sunday 0800-1300. Working for an established home décor company based in the warehouse.
Picking of orders with scanners
Putting orders into boxes
Packing boxes ready for distribution
For more information or to apply for this position please call Emma on 01225 307411.
And a vacancy for a Deputy Manager at the Bedborough House care home on Bristol Road, Radstock, BA3 3EE. This is for Priory Group Division
Salary is £10.97 per hour for a 40 hour week. For more details and to apply click HERE :
the Jobble job site