Planning news in and around Radstock : Plans in for the empty Debenhams store in Bath
In case you missed it this is how the interior of Midsomer Norton Town Hall looked October 14
Local planning applications include;
An application to reword the details on the development going on up at Silver Street in Midsomer Norton
Specifically : Variation of condition 10 of application 18/02095/OUT (Outline application for the phased development of Norton Hill Primary School, a 630 pupil, three form entry primary school (D1); up to 40 residential dwellings (C3); 64 bed care home (C2); 15 unit age restricted shelter accommodation (C3); public open space.
Backhouse Housing Limited, who are doing the houses, has put in an application to vary the wording of the condition so that it is more "flexible and allows the dwellings on site to be occupied on a plot-by-plot basis related to the completion and implementation of the approved Wildlife Protection and Enhancement Scheme. " Ref. 21/03248/COND.
While over in Radstock 6 Riverside Cottages has put in an application to build a three bedroom end terrace dwelling. Details under
The Local Democracy Reporter John Wimperis reports: Plans have been submitted to turn Bath's old Debenhams building into laboratories/offices with retail downstairs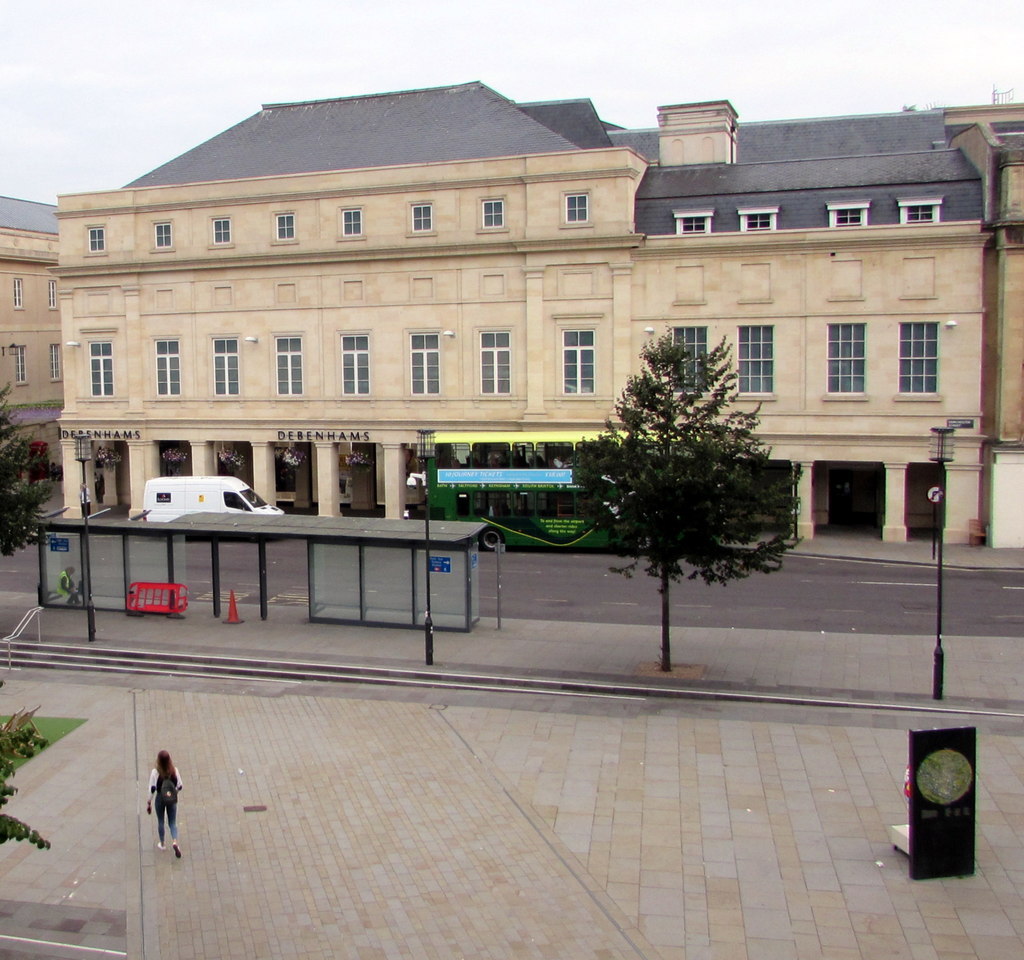 Bath\'s Debenhams building (Image: Jaggery (CC BY-SA 2.0)) - free to use for all BBC partners
The plans by the building's owner, Southgate LP Ltd, would see the ground floor used for retail, with the three floors above it becoming either lab space for life sciences or offices – both of which would benefit the city, according to Bath and North East Somerset Council.
Quod, the agents for the owner, said in their planning statement: "The building cannot continue to operate as a department store as the demand from the retail sector simply does not exist."
The former department store opposite Bath Spa Station has sat empty since May last year, when Debenhams closed down. Now developers claim that the building could create between 490 and 680 full time jobs, on top of 150 jobs in construction associated with work needed to repurpose the building.
Developers plan to build a terrace on the roof, alongside a green roof with solar panels. Work will also be carried out on the the "windows" on the upper floors, which are actually only moulded openings
They will need to be turned into actual windows if the space is to be used for offices and laboratories rather than storage. The smaller set at the top will also need to be expanded to let in minimum light requirements for Grade A office space, meaning they will break through the building's Georgian-style cornice.
Concerns were raised by some council officers, in a pre-application consultation, that this could impact the design of the building, which lies within Bath's conservation area, but developers disputed the level of harm this would do.
The application is supported by the council's economic development team. Business officer Bea Symington said: "This application represents a significant gain of office space within the area. The addition of life sciences space would be a boon to the area as it is not currently provided.
She added: "This also would diversify the offer within Bath."
The council aims to make a decision on whether to approve the plans by January 26.
Other hyper local planning decisions include:
Permitted, alterations to an existing lean-to extension including putting up PV panels at Barton Meade House , 126 Kilmersdon Road, in Radstock.
An application for a double storey side extension plus a single storey side extension with roof terrace at Pault House , Paulto' Hill, Paulton, has been permitted.
Also permitted, an application to demolish an existing conservatory and erection of single storey side, and single storey rear extensions, at 1 Gournay Court, in Farrington Gurney,
And the homeowners of 31 Westbury View, in Peasedown St John have had their planning application to demolish an existing conservatory and erection of single-storey rear extension, permitted.